Samsung A21 display flickering (How to fix it)
There are 3 types of problems that can occur on your smartphone that initially look like display damage, but are not. This is display flickering, which is shown here using the Samsung A21 as an example.
If these tips do not lead to success you can start with Display repair cost of about 130 ? To do this, send your phone to a cheap online repair service like 123 Mobile phone repair from all over Austria and Germany.
With these tips, however, you can probably fix the display flickering on Samsung phones yourself with just a few settings.
Samsung A21 Eliminate display flickering
1. the screen does not respond
1. restart
If the touchscreen of the smartphone or tablet does not respond, it often already helps to use a Restart. In this case, press and hold the power button to restart the device.
When the Touchscreen does not respond at all after reboot there might be a hardware problem. In this case, you should contact a professional repair service like 123Mobile phone repair*. Here, your touchscreen can be repaired and the display damage can be fixed at a reasonable price. Your data will be preserved and will not be deleted. Nevertheless, it is recommended to perform a data backup.
2. cell phone overloaded
If the touchscreen reacts only very delayed to the input, the device may be Overloaded by too many applications. Cleaning up apps that are no longer needed can help.
3. touchscreen is set too sensitive
Some phone models have a Glove Mode. Here, the touchscreen is extremely sensitive, so it can also be operated with gloves. If you operate your smartphone in glove mode without gloves, the display may jump due to the sensitive screen. Check the settings to see if glove mode is enabled on your smartphone or tablet and disable it if necessary.
2. the screen flickers, flashes or changes randomly
With smartphone and tablet screens, there may be a Flickering, blinking or rapid and random screen changes come. A clear cause cannot always be found, but the problem can usually be solved easily with one of the following approaches without the need for a display repair.
The following could help to fix the problem flickering screen lead:
1. waiting for automatic screen correction
Flickering and flickering cell phone screens can occur in a dry environment. In this case, static electricity disturbs the cell phone display. Static electricity is generated to a greater extent by the human body when the humidity is low, and this phenomenon can lead to problems with the screen color or a flickering screen. However, there is usually no cause for concern. Modern smartphones have an automatic display correction. The screen correction usually fixes the flickering within a few seconds. If necessary, a restart can help if the automatic screen correction is blocked.
2. there might be a setting that causes the flickering problem.
This setting shows is called Show interface updates. It shows a refresh of the screen with a flicker. You can use the option Show interface updates after activation of the Developer options deactivate. Proceed as follows:
Calls Settings in your Android phone on
2. go to Phone infowhich is located at the very bottom of the settings
3. type Software information to
4. type 7 times in a row on the build number
5. Nach Eingabe deines Passworts hast du die Entwickleroptionen aktiviert
6. Rufe nun die Developer options unter Einstellungen auf. Diese befinden sich ganz unten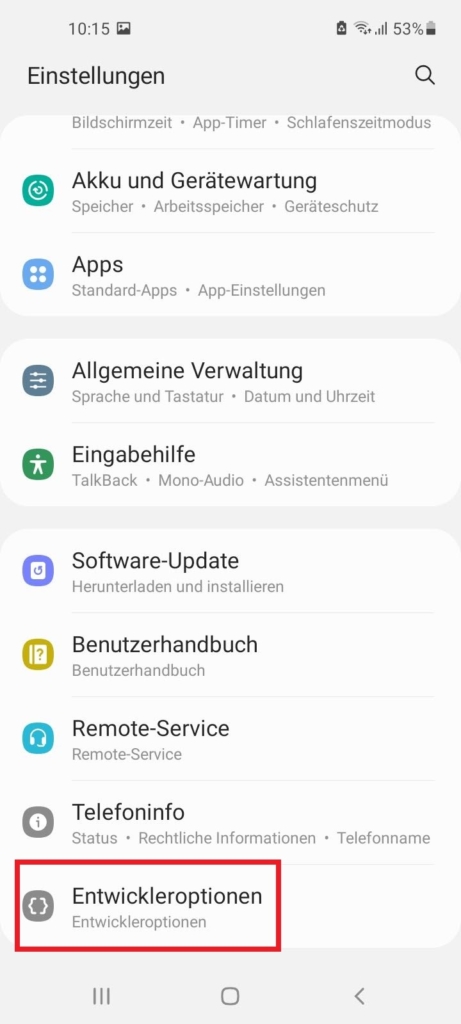 7. Im unteren Drittel des Menüs befindet sich das Menü Bildschirmdarstellung. Hier muss die Funktion Oberflächenaktualisierungen anzeigen deaktiviert sein.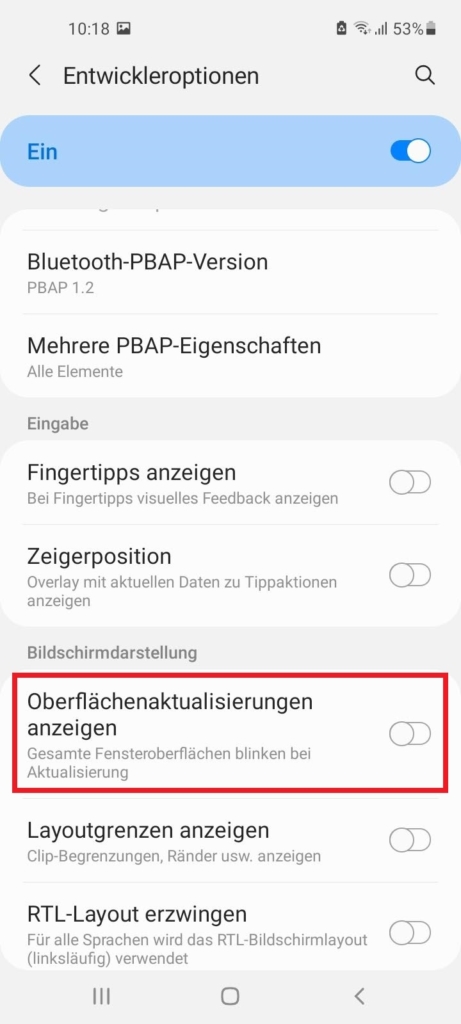 In diesem Video ist die beschriebene Vorgehensweise mit dem Samsung A21 unter Android gezeigt:
4. Es könnte an der Bildschirmhelligkeit liegen
Zudem kannst du versuchen, die Bildschirm-Helligkeit neu ein zuzustellen. Denn auch damit kann in manchen Fällen kann das Problem des flackernden Bildschirms behoben werden.
5. Handy auf Werkseinstellungen zurücksetzen bei immer noch bestehenden Display Problemen wie Flackern
Sollte ein sonstiges Software-Problem für das Flackern oder Blinken des Display verantwortlich sein, hilft es, das Handy in den Werkszustand zurückzusetzen. Hierbei werden allerdings alle persönlichen Daten und Einstellungen gelöscht werden. Lege daher zunächst ein Backup an, um keine Daten zu verlieren
So kannst du dein Android-Gerät vollständig zurücksetzen:
Wähle Settings
Wähle Allgemeine Verwaltung
Gehe zu Zurücksetzen
Tippe auf Alle Einstellungen zurücksetzten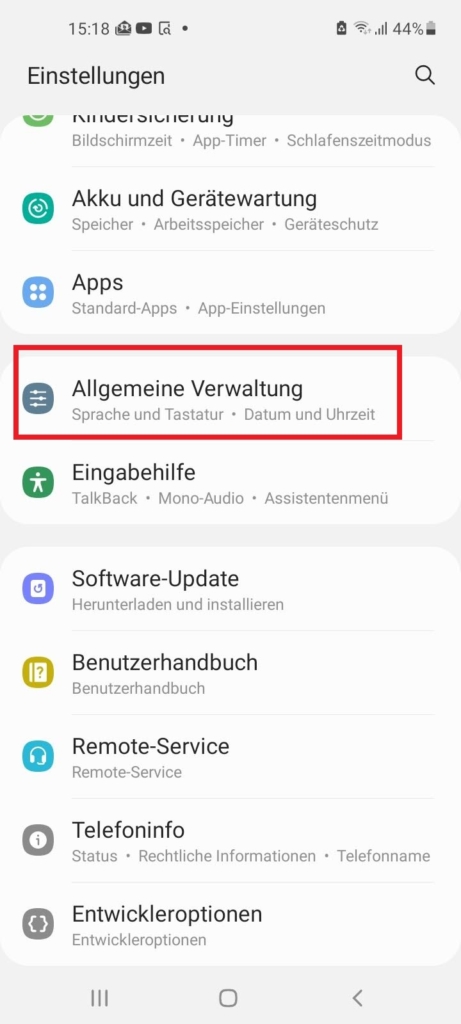 6. Wenn das Problem immer noch besteht liegt ein Hardware Fehler vor, welcher nur durch den Tausch der Diplayeinheit repariert werden kann
Falls das Problem ?Flackerndes Display? immer noch besteht, liegt wahrscheinlich einen Hardware-Fehler vor. In diesem Fall muss das Display des Handys repariert bzw. ausgetauscht werden. Wenn der Schaden innerhalb der Garantiezeit aufgetreten ist, kannst du dich an den Händler wenden. Außerhalb der Garantiezeit ist das nicht empfehlenswert, da die Kosten beim Händler um Einigens über dem liegen was ein Fachmann für eine Display-Reparatur berechnet.
Wir empfehlen, im Fall eines Hardware Defekts das Handy bei 123Handyreparatur einzuschicken. Denn bei 123Handyreparatur liegen die Kosten oftmals um 50 % unter den Preisen der Hersteller. Zudem arbeitet 123Handyreparatur sehr schnell, sodass du dein repariertes Handy bereits in wenigen Tagen wieder in den Händen halten kannst. Du kannst über diesen Link* herausfinden, ob dein Display repariert werden kann und welche Kosten dafür fällig werden.
Display Tausch bei Hardware Fehler anfragen
We are sorry that this post was not useful for you!
Let us improve this post!
Tell us how we can improve this post?