Invest in real estate online: Guide
There are a considerable number of ways to invest one's money. Some opt for ?classic variants? of investing (for example, investing in shares or buying houses and apartments), while more and more people are also positively disposed towards new forms of investment and want to invest in real estate online.
Crowdinvesting is a particularly exciting and new type of investment. A large number of people invest in a (mostly real estate) project. The attractive thing about it is that you can start investing with very small amounts of money in the double-digit range.
Therefore, in this article, let's take a close look at how ?investing online in real estate? works.
---
What is Crowdinvesting?

If you look at the word "crowdinvesting", it quickly becomes clear what it is all about: the "crowd" (i.e. a larger group of people) invests in a specific project. (i.e. a larger group of people) invests in a specific project.
These campaigns often involve new startups or, for example, artistic campaigns. Increasingly, however, crowdinvesting is also being used for real estate.
Those who invest in real estate online via crowdinvesting help developers by providing equity.
Developers looking for equity contact crowdinvesting platforms and agree on the target capital to be raised. Investors on the online platforms receive regular updates on the progress of the construction project.
Crowdinvesting has become so popular that there is also a law for "swarm financing". Crowdinvesting is therefore regulated by law and is thus subject to certain provisions.
What brings Crowdinvesting the investors?
Attractive interest rates

Short capital commitment

Maximum diversification
After investing a certain amount, you usually wait 1 - 4 years.
During this period, high interest income is already being generated.
Ideally, the developer has planned the project well in advance and has finished building/renovating the property. Then investors have the best prospects of high income.
However, great opportunities also entail high risks. With crowdinvesting, the main risk is that the developer goes bust (insolvency). In this case, the crowdinvesting investors have to reckon with the fact that the entire invested money is lost.
If you want to minimize this risk somewhat, you can divide your defined investment capital among many different projects and not just a single real estate campaign. This is easily possible on the various online platforms.
What are the main Advantages & Disadvantages Investing in real estate online?

Among the largest Plus points of crowdinvesting, apart from the uncomplicated entry ? is probably also the fact that the real estate no price fluctuations are exposed. This means that you don't have to check prices regularly (as you do with stocks, for example).
Another huge advantage is that also very small amounts invested can be. For many platforms, the lower limit is between 50? and 100? A single investment in this area will not bring much ? however, it is possible to divide a larger amount among many different projects and thus also minimize the risks.
The returns on crowdfunding are very high ? higher than many other forms of investment. If we assume average and realistic Yields between 6 and 8 percent If the investment is not sufficient, considerable returns can be achieved even with smaller investment sums.
Of course, every form of investment also has Disadvantages. Although it has happened rather rarely in the past, it can be Property developers go insolvent. The crowdinvesting investors then lose their entire investment, which must then be written off as a total loss. In the event of insolvency proceedings, the crowdinvestors have subordinate rights.
If you want to invest a lot of money, you can't do it through crowdinvesting. To ensure that the sums invested are more or less equalized, the the sums are also limited upwards.
Invest in real estate online: Advantages
Diversification: Crowd investing allows investors to invest in different real estate projects with smaller amounts. This allows them to spread their risk and benefit from different properties.
Good returns: Most investors are satisfied with returns of between 6 and 9 percent. These returns are significantly higher than the interest rates on conventional savings products such as fixed-term deposits or government bonds.
Online registration: Signing up and registering with the platforms is done entirely online, which makes the process convenient and easy for investors.
Good information: The platform offers detailed and meaningful information on the individual projects in advance, so that you as an investor can make an informed decision.
Many successful projects: Most investors report that their projects were successfully completed and they got their investments back.
Interesting business model: Crowdinvesting offers an exciting opportunity to invest in real estate even with smaller amounts, which is particularly attractive for those who cannot yet afford their own property.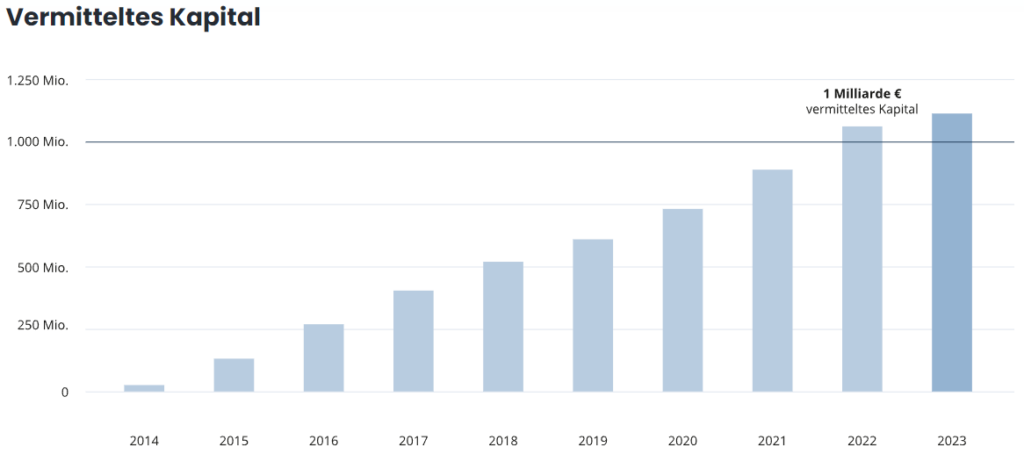 Investing in real estate online: Disadvantages
Several investors report Delays in disbursements of their investments. This is frustrating for investors.
Some investors report a Total loss of their investment due to insolvency cases, such as the exporo project "Marburg I/II? Such defaults can wipe out the entire return.
Some field reports indicate that the Quality of the appraisal is too low for some real estate crowdfunding platforms. This leads to riskier investments and increases the default risk for investors.
Some investors feel the Information policy of crowdinvestment platforms as insufficient and do not feel adequately represented. Thus, communication regarding ongoing projects and payouts could often be improved.
The Investors bear the entire risk, while the platforms retain a significant portion of the interest income without having to take any risk.
During the pandemic came Payouts sometimes unpunctual.
Invest in real estate online: Your options at a glance (even with little capital)
There are several ways to invest in real estate online. These options are available to you even with little capital in the account. 100 euros is enough to get started.
The opportunities presented in the table thus also offer small investors the chance to benefit from the advantages of the real estate market without having to raise large amounts of money.
| # | Form of investment | Advantages | Investing in real estate with little money? |
| --- | --- | --- | --- |
| 1 | Real Estate ETFs | Diversified investment in real estate from 1 euro | very well suited |
| 2 | Real Estate REITs | More focus, less diversification. Thus only conditionally suitable for the start as a real estate investor. | Moderately suitable |
| 3 | Real Estate Crowdinvesting | Through online platforms, many people with little capital invest together in projects that they would not be able to implement on their own. | Very suitable |
| 4 | Open-ended real estate funds | By purchasing fund units, investors can participate in large real estate projects with small amounts. | Very suitable |
| 5 | Care Real Estate | Profiting from this mega trend with nursing homes and nursing home funds. | Moderately suitable |
| 6 | Alternative investment funds | Alternative investment funds are poorly suited to investing in real estate with little money due to their large denominations of 5,000 to 10,000 ? and their fixed multi-year terms. | Poorly suited |
6 ways to invest in real estate online with little money. Source: Invest in real estate with little money (Konto-Kredit-Vergleich.de)
Diversification across several real estate classes spreads the risk and also increases the chances of a positive return.
Before you decide on a particular type of investment, you should check the fee structure, the history and especially also the experience of other investors Consider. Investing in real estate online with a solvent partner is an attractive addition to your emerging investment portfolio. But as with any investment, you should carefully consider the risk of a possible total loss.
---
Conclusion: Invest in real estate online
In summary, investing in real estate online is easier than ever these days.
A few clicks are all it takes to start investing on one of the many crowdinvesting platforms.
Before you start investing, one should However, investors should inform themselves about the projects and assess the risk. In principle, crowdinvesting projects harbor attractive opportunities for returns. At the same time, however, the risks are also greater.
Anyone who is interested in crowdinvesting and would like to invest money online can give it a try. However, as with any investment option, we recommend that you initially invest smaller sums of money, so that in a worst-case scenario it would not be the end of the world if the money is gone.
We are sorry that this post was not useful for you!
Let us improve this post!
Tell us how we can improve this post?