Spy Cameras: Top 6 Cams for Secret Recording
Who doesn't know them, the incredible stories and the exciting secret agent tricks of James Bond? Only Hollywood can be this exciting!
Or maybe not? The recent political scandal in Austria no longer relegates our spy heroes from the past to the realm of fiction: a rich Russian woman, a villa with expensive cars, a well-known politician and public contracts in return for election campaign help sound like the basic equipment for a good spy movie.
To top it all off, the means of delivery is also a small hidden spy camera that ultimately cost Austrian Vice Chancellor and FPÖ leader Heinz-Christian Strache his job.
Spy cameras are not only very useful when it comes to unmasking political machinations, but also in the private sphere. For example, monitoring the front door at home or the garden is a practical area of application.
Since the selection of such cameras is quite diverse, this article provides an overview of the six best models on the market and informs about which criteria are decisive when buying.
---
What to look for when buying a Spy camera to pay attention?
Good spy cameras are characterized especially by their inconspicuousness. Accordingly, the cameras should be small, lightweight and able to adapt optimally to their environment.
However, even the greatest discretion is of no use if the recording quality is insufficient and you simply can't see anything. Therefore, a good video resolution is one of the most important purchase criteria. Depending on the application, the possibility of audio recording or night use can also be important, which is why it is best to think about which functions you absolutely need before buying.
Spy cameras also differ in terms of their connectivity: For example, some cameras store their recordings locally on an SD card, while others upload the videos to a cloud via WLAN and may even offer the option of a live stream. Thus, even the choice of backup depends on the intended use, since not all users necessarily need a live view.
Since most mini cameras are portable, they must be powered by a rechargeable battery. This also makes battery performance a criterion to think about when buying. With a camera that is activated by a motion detector and that does not record continuously, the battery life is extended overall thanks to a high standby time. As a rule of thumb, you can also remember that the smaller the camera, the smaller the battery and thus the battery life. Accordingly, mini cameras are more suitable for planned recordings than for permanent surveillance.
---
The top 6 of the

Best spy cameras
1. spy camera from Hellocam
For a very affordable price, the Hellocam company offers a Spy Cam that lives up to its name: measuring 4.4cm x 2.5cm, it is very small and unobtrusive.
The black housing allows you to hide it well camouflaged and thanks to the high video resolution of 1280 x 1080 pixels, a sharp image is guaranteed. This remains even in the dark, because the spy camera has six integrated infrared LEDs. A microphone even makes sound recordings possible.
Control via WIFI and matching app allow discreet operation and remote access via live stream. In addition, the recordings are stored on an SD card, which can be up to 128GB in size.
According to the manufacturer, the battery lasts for an incredible five hours. Since the Hellocam camera is charged via a USB cable, it can also be put into continuous operation with the help of a powerbank, for example.
View Hellocam at Amazon.com
2. kobert goods charger with spy camera
With the Spy Cam from Kobert Goods, you no longer have to worry about how and where to place the small camera, as it is disguised as a charger.
Nowadays, no one will be surprised if someone carries a charger with them and inconspicuously places it on the table or in a socket.
The mini camera records with sound as well as HD resolution of 1920 x 1080 pixels.
One can choose between continuous recording or motion-controlled operation. The camera supports a memory card with up to 32GB, which corresponds to about eight hours of video material.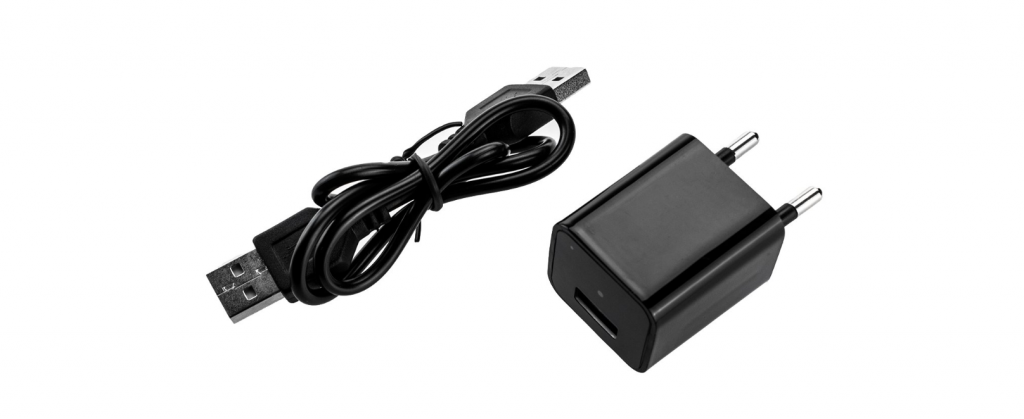 However, the additional function of loop recording theoretically allows infinite recording, since the oldest data is always overwritten when the memory is full.
View Kobert Goods device at Amazon.com
3. spy camera from NIYPS
The spy camera that we will introduce next is so tiny that you almost have to be careful not to lose it accidentally. Just 2.2cm x 2.2cm x 1.8cm small and 19.8 grams light is the Spy Cam from NIYPS.
In addition to this handy size, the additional installation of a magnet on the back allows for much more wide-ranging applications: Attaching the camera to any iron product becomes possible without any problems. With the help of a mirror, which can additionally be attached in front of the camera lens, the small black cube can no longer be identified as a camera.
The image quality is convincing with 1920 x 1080 pixels both during the day and at night thanks to the integrated infrared night vision.
The battery's runtime is only about 50 minutes, which is not surprising considering the small size. However, the battery can be saved with the help of the integrated motion detection and permanent recording is possible when the power source is connected.
The spy camera supports memory cards of up to 32GB and also uses the Loop function.
View NIYPS camera at Amazon.com
4. hidden pen camera
Another full pro when it comes to camouflage is the spy camera pen from LXMIMI.
You can use it as a real pen and record 1920 x 1080p HD videos with sound unnoticed on the side. The recording can be started and stopped again with a simple push of a button. The data is saved every 10 minutes on an SD card of up to 8 GB, which is located inside the pen.
According to the manufacturer, the battery performance is about 30 to 50 minutes with continuous recording. The battery itself can be charged via a mini USB port.
View Hidden Pen Camera at Amazon.com
5. mini camera from TODAYI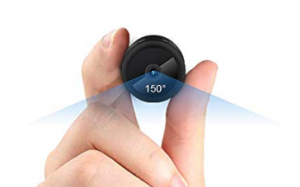 The Spy Cam from TODAYI once again combines all the useful features in one device: HD video quality with sound and a resolution of 1920 x 1080 pixels, infrared LEDs to record even at night and built-in motion detection.
Since the mini camera can also be connected to the Internet via WLAN, you will be informed about all detected movements via push notification on the associated app.
In addition, the recordings are stored on a micro SD card of up to 128GB. Thanks to the loop function, the oldest recordings are automatically overwritten if the memory is full.
The battery is said to last about 60 minutes, and this camera can also continue recording while charging. The USB cable is intentionally stiffened, which enables flexible adjustment of the camera.
View TODAYI Mini Camera at Amazon.com
6. spy camera in a plastic bottle
The manufacturing company SANNCE has thought of something very special to camouflage the small spy camera: It is placed quite inconspicuously and cleverly behind the label of a bottle, which visually looks like a standard water bottle from the supermarket.
To perfect the camouflage, you can fill the bottle with liquids with temperatures up to 60°C and use it like an ordinary plastic bottle.
The 1080P high-definition videos are stored on a memory card with a maximum size of 64GB. Recordings can either be started via an unobtrusive button or activated via motion detection. The latter conserves battery power, which is a maximum of 180 minutes when recording continuously.
View SANNCE camera at Amazon.com
---
Conclusion: Top 6 spy cameras
The spy cameras presented here have a lot to offer and that too at a very affordable price. Which one you ultimately want to choose depends largely on what you want to use the spy cam for.
Different situations require different equipment. On a hiking trip, for example, a water bottle is more inconspicuous than a charger.
We are sorry that this post was not useful for you!
Let us improve this post!
Tell us how we can improve this post?