Trade shares: Advisor & Tips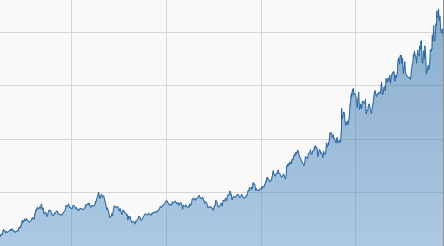 Especially in times of great upheaval, people look for sensible ways to invest their money. Once you have chosen a good investment path, you can reap the rewards after a few years.
As an example, one only has to look at the purchase of shares: Anyone who invested in shares of Google, Apple, Facebook & Co. at the beginning of the Internet age is bound to be pleased today. The shares of these companies have literally gone through the roof in recent years.
In Austria and Germany, it is assumed that less than 5% of the general population is interested in buying shares - that is far too few!
If you want to trade stocks, we recommend a close reading of this guide. We show you the different methods of investing in stocks and give you our best tips.
Demokonto jetzt probieren
Free account opening immediately possible. Deposit also via PayPal!
EU Risk Notice: 72% of CFD retail investor accounts lose money.
---
What are shares?
Shares have been around for several hundred years. The first ideas for shares appeared in the middle of the 17th century. At that time, a company was looking for a way to raise more money.
Even today, shares function according to the same principle: large stock corporations can get their hands on a lot of money with shares. Interested parties and people who believe in the company are enabled to invest in a company with their private assets.

When people buy a share, they are buying part of the company's assets. These include, for example, workshops or machines.
Initially, shares were traded on special trading floors. There, each trade was recorded in a special book.
Nowadays, everything works much faster and less complicated: thanks to the Internet, anyone can open a trading account in a few minutes and start buying their first shares.
Notice: Stocks (when handled incorrectly) can lead to large losses. Therefore, we recommend everyone to learn and inform themselves before starting to trade. This way, the probability of a nasty surprise will be less.
Why should I buy shares?
Ever since money has existed, people have been looking for ways to increase it.
One option for this is shares: If you decide on the right shares and the prices rise, you can expect the first profits after just a few months. However, it is much more worthwhile to hold on to the shares for several years and only sell them later.
One of the best known long-term investors is Warren Buffet:
Warren Buffet became a billionaire by investing in the right stocks.
It is therefore worthwhile for anyone who has unused money in their account to invest in shares. If there are companies in which you believe and from which you expect a lot in the future, you can invest. However, it is important that you only invest money that you can lose in the worst case.
Some people buy real estate, others invest their money in gold, and still others buy shares: While there are usually only small price fluctuations in real estate and commodities (such as gold), these can be more severe in the case of company shares.
Example:
The following screenshot shows the share price of the electric car manufacturer Tesla in 2018. The fluctuations in the share price are clearly visible: sometimes up, sometimes down. Were
good sales figures
reported, it went steeply upwards. If there were problems or negative headlines (eg.
When Elon Musk pulled on a cannabis joint
), things went downhill.
Such short-term jumps should only be interesting for short-term traders who trade in hourly or daily rythms. If you want to own shares in the longer term (e.g. over several years), you should not care about small breakouts.
In summary, buying stocks is suitable for anyone who wants to build a fortune over the long term. Shares have long been, and still are, one of the best methods for investing money. Moreover, with shares you can buy shares in real companies, which is especially good if you are very interested in certain industries.
Demokonto jetzt probieren
Free account opening immediately possible. Deposit also via PayPal!
EU Risk Notice: 72% of CFD retail investor accounts lose money.
Buying shares: This is how it works!
If you want to buy shares, you must first consider a few things.
Tip:
If you want to start trading right away, you should take a look at our alternative to the traditional securities account.
More on this below.
1. select depot
First of all, you need a stock portfolio. All purchases and sales are then realized via this account.
It is important to choose a reputable securities account with good conditions. Unfortunately, it is still the case that especially house banks still often charge fees for a share deposit. In the meantime, however, there are many free providers.
What is not free is the execution of a transaction (in English: order). The costs are usually in the range of less than 10? - some providers, however, add a hefty commission. For an order, costs of up to 70? can arise.
It is advisable to compare securities accounts and choose a provider with low fees.
We recommend the following providers:
Finances.net - Serious and great broker of the well-known online magazine. Low commissions, regardless of volume!
Dad.at - Austrian online broker, test winner at ÖGVS.
Flatex.at - Well-known and great broker with great online interface.
2. become familiar with stock trading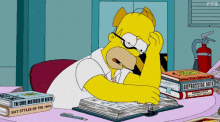 Once you have decided on a securities account, the exciting part follows: the purchase of the first share.
Although the figures are not known exactly, it can be assumed that many newcomers to the stock market fail. This happens especially when people do not inform themselves sufficiently and invest blindly in shares.
First of all, you should clarify with yourself how much money you want to invest. In the beginning, we recommend smaller sums before you dare to do larger deals. With small sums it doesn't hurt if something goes wrong.
Many beginners are over-motivated and already dream of big Ferraris while creating the first order. This is wrong - overconfidence rarely does any good.
The famous self-made billionaire Warren Buffet did not become so rich because he looked at short-term successes of companies. Rather, he looked at which companies were good and known for doing successful business. He then invested in them.
An example of a company that is good and well-known in the long term is Coca Cola, for example. Companies such as McDonalds or (more modern) Apple also belong to this category. These are no flash in the pan, but renowned big players that know exactly how to dominate their industry.
3. observe & learn
As soon as you've bought your first stock, you're bound to keep checking your portfolio like crazy to see what's happened: Is the price rising? What news is there about the company?

The third part of your stock experience is all about patience.
Successful stock traders usually leave some stocks for years before they think of selling them. During this time, there are many ups and downs.
Anyone who acts hastily and sells at the first minus trend is not cut out for stock trading.
It is also important to remain rational and not be led by short-term emotions.
4. diversify and mix the portfolio well
You want to minimize your risk and at the same time have a prospect of profits?
Then it is advisable to diversify the portfolio. Diversification means not concentrating on just one company or one sector. Rather, one buys shares from different markets.
This is because it is often the case that some markets explode and are bullish, while there is a downtrend in others. Gains from the former then smooth out the losses from the down markets.
Tip: Safe markets include sectors that have been established for a long time and in which there are no major ups and downs. Uncertain and risky markets are so-called "growth markets". Today, these include, for example, electric car manufacturers.
Good tips for buying and selling can also be found in stock magazines, such as e.g. at Finanzen.net!
5. sell strategically
Again, the anecdotes of older stock professionals help us with the last point: let profits run, limit losses aggressively!

No one wants to lose a lot of money on stocks; after all, that's what you bought the stock for in the beginning, to make money.
Therefore, successful stock traders set themselves fixed limits at which they sell their stock. Often limits in the range around 20% are used. If one of their orders slips below this limit, they sell rigorously. This way, no major defaults can occur and the risk is minimized.
In some programs you can even enter this limit in the program.
Then the share is automatically sold when the price slips below the limit.
---
Alternative to stock trading: CFD Trading
There are many different variants in the spectrum of stock traders. In addition to the classic longer-term buy-and-sell, day trading is also becoming increasingly popular.
This is a special form of investing where you only enter and exit a course for a very short time.
In contrast to traditional trading, however, you do not actually buy the share.
Rather, one speculates with a provider on the future development of the price. Here, money can also be earned with negative prices, if one bets on a falling price.
How do CFDs work?
CFDs are not tied to a securities account. After opening a free account with a CFD broker, you can start trading.
It is possible to speculate on rising and falling prices.
Example: If you assume that share XYZ will fall, you click on "Short". Then you can choose how much money you want to "short" the share. So you speculate on the fact that the price falls. If this is really the case, you get money.
CFDs are leveraged products.
In short, this means that you end up working with much larger sums than you actually invested.
As a result, a lot of money can be earned with CFDs in a relatively short time.
At the same time, however, CFDs are highly risky and if you are unlucky, you can lose all your invested capital in a matter of minutes.
As with shares, the same applies to CFDs: learn and then trade properly.
Many CFD providers have demo accounts for this purpose.
Broker-Empfehlung: eToro
Bei eToro handelt es sich um einen renommierten CFD-Service, der weltweit zu den größten gehört.
The registration at Plus500 is quick and you can learn step-by-step what it means to trade CFDs with the demo account. In return, you also get a virtual starting credit.
When you feel that you have learned enough, you can switch to the real money account with one click and trade real values.
Möchtest du in die faszinierende Welt von Aktien, CFDs oder Rohstoffen wie Silber und Gold eintauchen? Dann bist du bei eToro, einem der beliebtesten Trading-Anbieter, genau richtig!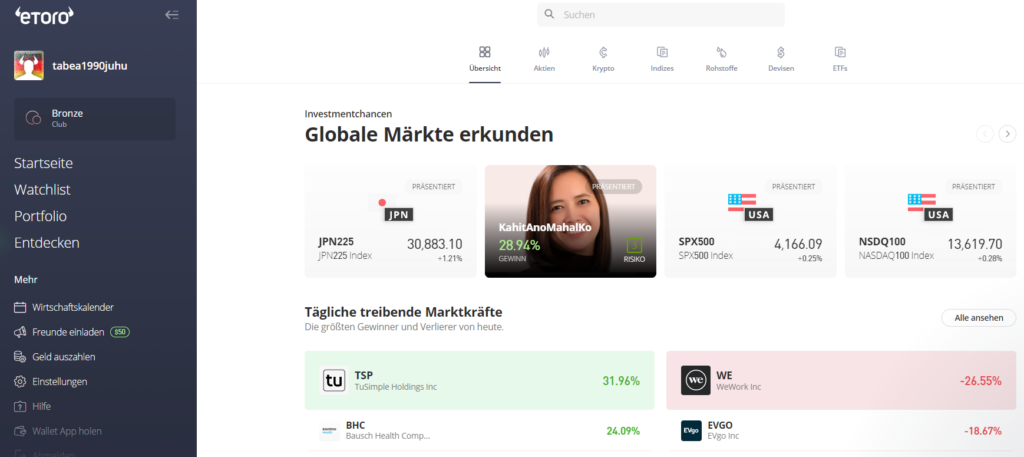 Warum solltest du eToro wählen? Hier sind einige Vorteile, die dich überzeugen werden:
Riesige Auswahl an Handelsmöglichkeiten: Bei eToro kannst du aus einer breiten Palette von Optionen wählen, darunter Edelmetalle, Rohstoffe, Aktien, ETFs, Kryptowährungen und vieles mehr. Entdecke die Welt der Märkte und finde die Anlageklassen, die zu deinen Zielen passen.
Vertrauen und Erfahrung: Mit über 20 Millionen Nutzern weltweit ist eToro seit 2007 am Markt tätig. Das Unternehmen hat sich einen hervorragenden Ruf erworben und bietet eine solide Plattform für das Online-Trading.
Kostenloser Handel: Bei eToro zahlst du keine Depot- und Ordergebühren. Du kannst deine Investitionen frei verwalten, ohne zusätzliche Kosten zu befürchten. Nutze dein Kapital voll aus und maximiere deine Gewinnchancen.
Schnelle und einfache Online-Depoteröffnung: Du möchtest sofort mit dem Trading loslegen? Kein Problem! Bei eToro kannst du innerhalb von weniger als 3 Minuten ein Online-Depot eröffnen. Es war noch nie so einfach, Teil der Finanzmärkte zu werden.
(Fast) alle Kryptowährungen handelbar: eToro bietet den Handel mit über 60 digitalen Währungen und Coins an. Egal, ob du die Standard-Kryptos wie Bitcoin, Ethereum, Ripple und Cardano handeln möchtest oder auf der Suche nach aufstrebenden Meme-Coins wie Dogecoin und Shiba Inu Coin bist ? bei eToro findest du alles an einem Ort.
Auf fallende Kurse setzen: Bei eToro hast du nicht nur die Möglichkeit, auf steigende Kurse zu setzen, sondern kannst auch von fallenden Kursen profitieren. Nutze verschiedene Trading-Strategien und erziele Gewinne in jedem Marktumfeld.
Worauf wartest du noch? Starte noch heute dein Trading-Abenteuer mit eToro und profitiere von den vielfältigen Handelsmöglichkeiten, der Benutzerfreundlichkeit und den attraktiven Konditionen. Klicke jetzt auf den Link zum beliebten Trading-Anbieter und eröffne dein Online-Depot bei eToro!
Demokonto jetzt probieren!
Free account opening immediately possible. Deposit also via PayPal!
EU Risk Notice: 72% of CFD retail investor accounts lose money.
More Tips for CFD trading can be found in this article. Still more trading platforms we present here.
---
Conclusion: Buy shares
As has been well demonstrated in this article, stocks are recommended as a long-term investment method.
Stocks have already made some people rich and they could also help you to build up a small fortune. The important thing is to diversify your portfolio and not just bet on one card.
In addition, people succeed with shares primarily when they regularly inform themselves about the condition of the companies whose shares they have bought.
The more you learn and take an interest in stock trading, the more likely long-term profits are possible.
If you now feel like it, we also recommend the many interviews with Warren Buffet on YouTube. What the gentleman spills out is information that you can't get for free everywhere.
As a faster and significantly riskier method, CFDs should be mentioned.
CFD trading is not about long-term trading, but rather short-term trading and "riding" price waves. Day trading is much more stressful and you have to sit at your PC all the time. On the other hand, the trading account is opened immediately and you can start trading right away. Most providers even have a demo account, through which you can try trading completely free of charge (with virtual "play money").
We are sorry that this post was not useful for you!
Let us improve this post!
Tell us how we can improve this post?