Learn trading
When people think of the world of the stock market, they often think of high profits, risk and action. Speculating with money and other valuable objects has fascinated mankind for centuries. Nevertheless, only very few people dare to get involved in stock trading. For many, the risks are too high and their own money too valuable.
At the same time, anyone (with enough motivation and ambition) can theoretically become a successful trader. However, as someone who wants to have realistic chances of success, one should be motivated not only for the actual trading, but also for many trading lessons and learning hours.
Long-term successful stock traders have learned to trade in courses and from professionals/mentors. Entering trading without experience can quickly lead to high losses. We recommend
this
Online courses.
In this article, we clarify how to get started in stock market trading, what to look out for, and where to find even more learning materials.
---
What is trading anyway?
Trading refers to trading in securities. A trader is a person who trades in the stock market (either for himself or for an institution). The goal in trading is to make more successful trades than losing trades in order to get out with a profit. Due to the increasing awareness, there are more and more people who want to trade full-time. However, it is believed that only 30% of traders are profitable.
How not to start...
(or also: How to burn a lot of money really fast)
As a normal consumer, you are advertised by various trading providers. Whether you turn on your TV, notebook or smartphone - sooner or later you will see ads for one of the many online brokers.
The minimum deposit with most providers is in the range between 100? and 1,000? So if you believe all the promises of advertising and "want to make some money fast", you might invest the minimum deposit amount - and get rid of the money very quickly.
Without a proven strategy and precise principles, it is pointless to enter the trading market.
What should I know?
Trading strategies
People who make a living from trading always have a precise strategy that they follow. This is the only way they can ensure long-term success.
Day trading: In contrast to longer-term traders, the opens and closes Daytrader its position on one and the same day. With this method, it is actually possible to achieve very high profits in a short time, because leveraged products are traded. However, the leverage can also work in the other direction.
Scalping: Scalping takes place in an even shorter period of time than day trading. In scalping, positions are opened and closed again within a few seconds or minutes. In order to make an adequate profit, the stakes are very high.
Swingtrading: So-called swing traders use the fluctuations of the prices to make profits. Since a price never runs linear, there are always small fluctuations. It is exactly these fluctuations that swing traders use. It is controversial whether this method can lead to long-term success.
Position trading: This trading strategy comes closest to the classic, long-term stock trading. Here, a position is held over a longer period of time (days, usually weeks) before it is closed.
Longer-term investment: With Buy&Hold, investments are held for the long term (months or years). Buy&Hold is a stark difference to short-term and speculative day-, scalp-, or swing trading.
Which method should I choose?
This depends mainly on how much time (and money) you want to invest. Especially with a small capital Buy&Hold is not worth it, because here larger stakes are necessary. Day trading is recommended for beginners.
Trading Instruments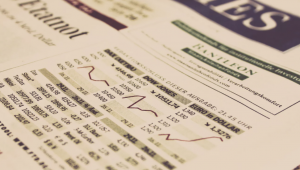 With which instruments can I trade as a private person? Online one works mostly with CFDs.
Contracts for Difference have become increasingly popular, especially in recent years. The Internet is full of CFD brokers that provide an uncomplicated entry into the world of stocks. CFDs work like leverage certificates. One "bets" on rising or falling prices. Through the leverage one can achieve higher profits (and also losses). Among the best known brokers are eg. Plus 500 or Etoro.
CFDs allow you to trade several instruments. The largest online platforms offer the following trading instruments:
Shares: Security for a share in a company
Indexes: calculated size for a stock exchange segment (e.g. the index of an industry)
Foreign exchange: Currency pairs (e.g. GBP/USD or EUR/USD)
Cryptocurrencies: Bitcoin, Ethereum, Litecoin and Co.
Raw materials: Oil, natural gas, gold, platinum, etc.
Options: Right to delivery/acceptance of a security
ETF: Investment fund
Mode of operation
Besides the detailed aspects, you should also know how a trader works.
First of all, the trader must choose an online broker with whom he can trade. The selection is made according to several criteria, e.g. seriousness, choice of trading instruments, etc.
Then he can start trading. If he clicks on "Sell/Short" he assumes that the price will fall, if he clicks on "Buy/Long" he expects the price to rise. Only if he has enough capital to cover the required margin, the broker opens the position.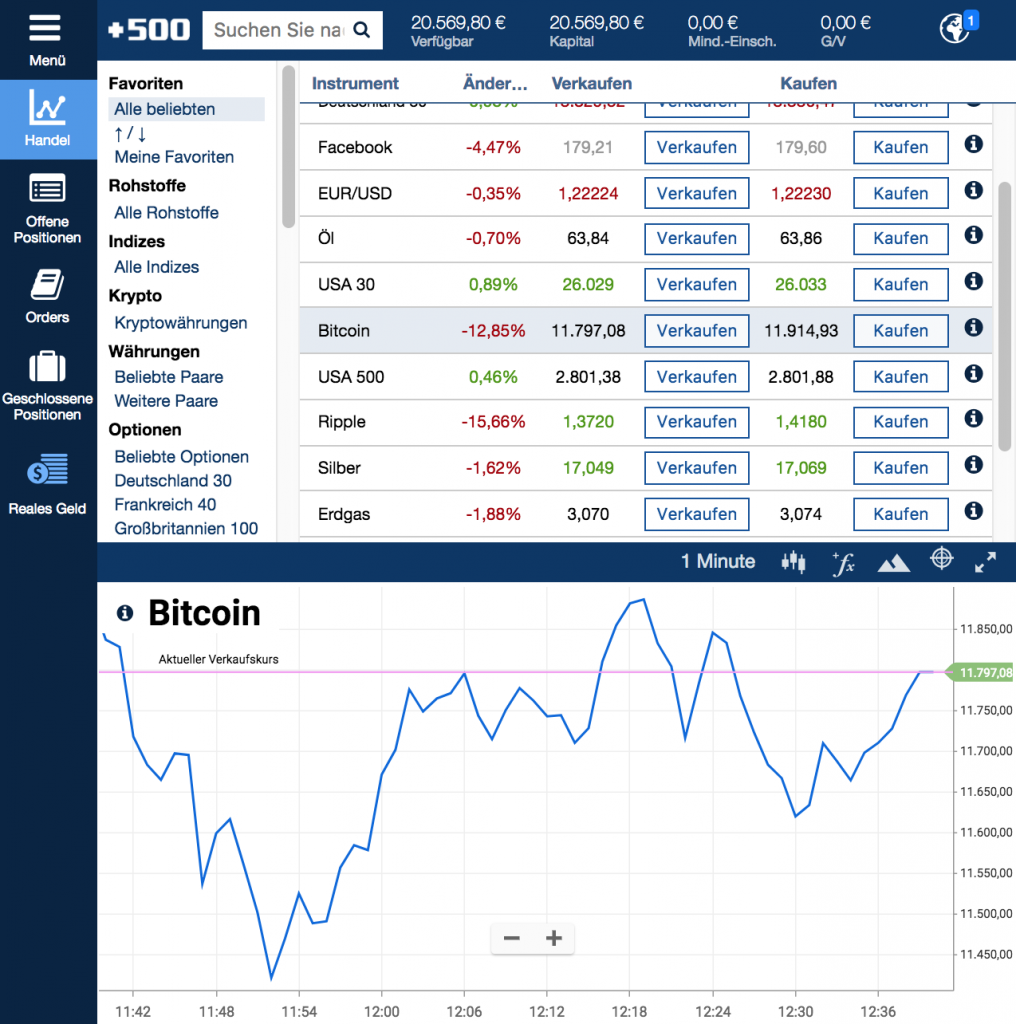 In the screenshot you can see the online platform of Plus500. 72% of CFD retail investor accounts lose money. Which trading instrument is used depends on the trader. While some traders prefer very volatile instruments (e.g. Bitcoin), others feel more comfortable with less moving assets (e.g. gold).
Recommended CFD brokers
Before you can start trading, you need a reliable broker. Here you can find our top 5 CFD broker recommendations. We compare the best online platforms and do the seriousness check.
---
How can I learn trading?
Now that you know about the basics of online trading, let's get down to the nitty gritty. There are many different ways to advance from amateur to professional trader.
Demo account
The theoretical learning of basics should not be underestimated in trading. Nevertheless, nothing beats a little learning by doing. This works ideally with the demo accounts of the major providers. For example, if you register with Etoro, Plus500 or GKFX, you have the opportunity to trade with virtual money.
It allows new users to take their first steps on the stock market banquet without taking any risk.
When you are ready for real money trading, you can switch from demo to real money mode with one click.
Online courses
There are some recommended courses on the internet where you can learn from real traders. Besides course videos and texts, it is also possible to get in touch with traders and ask them questions.
It is important to separate the wheat from the chaff and choose a good online course. Unfortunately, there are also some providers who promise a lot but don't deliver much.
For beginners we recommend the following courses:
Trader-Nomads.com
Trader Nomads is a community of profitable day traders who have turned their hobby into a profession. Nomads because they travel around the world and do their business from a different place every day. At Trader Nomads you get a free video series before you even register, so you can form an opinion about the course. >> More info here >>
Tradingstarter.com
Tradingstarter is also one of the best rated online courses on trading in the German-speaking world. The German banker Frederic Ebner shows with interesting tips how he can achieve large monthly income with trading. Here you also get insights into the course before the actual registration. >> More info here >>
We are sorry that this post was not useful for you!
Let us improve this post!
Tell us how we can improve this post?