Top 5 CFD brokers in comparison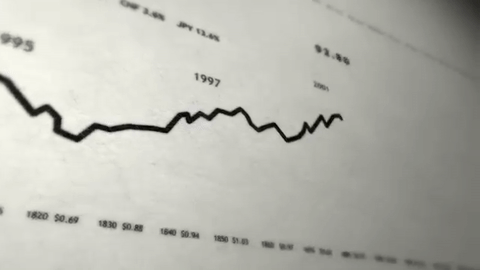 Since the crypto boom, more and more people are interested in online trading of stocks, indices, options and just cryptocurrencies. While the purchase of real shares is associated with some complications, the CFDs trading a quick and uncomplicated entry into the world of trading. In this article we present the Top 5 CFD Brokers and educate you about trading CFDs (Contracts for Difference).
Especially with CFDs you should be aware of the risks: Trading with CFDs allows thanks to the leverage effect high profits - and also high losses.
---
Top 3 recommendations: CFD Broker
1. Plus500
At Plus500 is one of the largest CFD trading platforms in the world. Since its founding in 2008, the portal for CFD trading in stocks, indices, foreign exchange (and now also cryptocurrencies) has steadily evolved.
In addition to the web platform (Plus500 WebTrader), there are also apps for the largest smartphone operating systems. As a trader, you can thus not only trade on the PC - trading on the go is also possible at any time.
SeriousnessPlus500 is headquartered in Israel. Through offices in Cyprus and the UK, the broker is also subject to supervision by European authorities. Plus500 is also the main sponsor of Atletico Madrid. According to its own information, Plus500 has high liquidity and keeps all client funds separate from the company's assets.
Meanwhile, you can trade in more than 2,000 markets. The options range from commodities to indices, cryptocurrencies and individual stocks.
72% of CFD retail investor accounts lose money trading with this provider.
In the screenshot you can see the demo account of Plus500. Instead of offering tutorials, the platform offers trading with virtual money. Therefore, we also recommend all newbies to try out the demo account before trading with real money.
It costs nothing and you can playfully learn the Learn to trade. The longer you trade with virtual money, the sooner you get a feel for trading.
The web interface is identical for the demo and real money account. It is clear and even as a beginner you can keep track of everything.
Customer reviewsIf you Google Plus500 and do some research on various social media channels, you will quickly see that the online community is divided on Plus500. Some customers praise Plus500 for its ease of use and serious demeanor, while others criticize Plus500 for its poor support. Often there are also reviews from customers who have not informed themselves about the risks of CFD trading in advance.
In fact, the support at Plus500 is in need of improvement. We believe that a lot of the negative reviews would also disappear if the support department was expanded, as this is actually a reputable and recommendable online trader.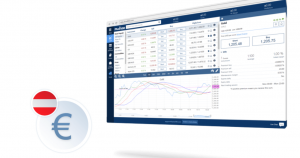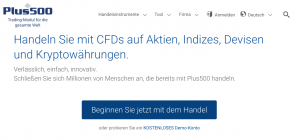 In conclusion can be said that Plus500 is worth a recommendation. The online broker from Israel convinces with a huge selection of markets and serious trading. The platform is one of the most successful in Europe. Especially the available demo account is highly recommended for beginners. The only negative thing we noticed was the rather mediocre support.
Trade now at Plus500!
72% of CFD retail investor accounts lose money trading with this provider.
2. eToro
eToro is also a CFD broker. However, unlike other providers, eToro is more of a social trading platform. This means that you can get insight into the trading behavior of other users and then copy their portfolios or trades.
Etoro has become known in German-speaking countries mainly because of its eye-catching advertising. The social trading platform offers trading via its own website or via a mobile app. In both variants, the social aspect is firmly integrated into the system and you can always see live how other users are trading.
SeriousnesseToro has been on the market since 2007 and is one of the most popular social trading platforms in the world. The provider is based in Cyprus and is controlled by CySEC, the Cypriot financial supervisory authority. This is subject to instructions from Brussels. Very interesting: Unlike many other online traders, eToro offers deposit insurance. In the event of bankruptcy of the platform, you get back as a customer (if you have invested so much) up to 20,000?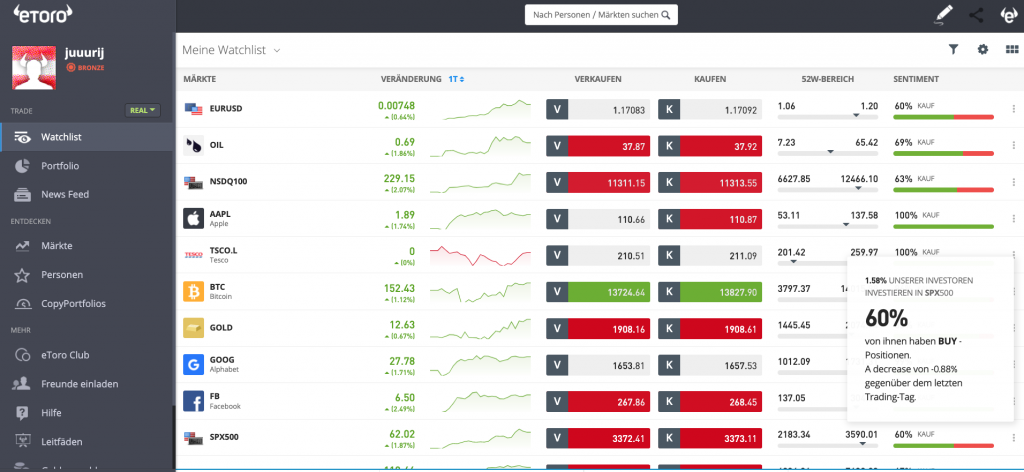 Screenshot. Sample prices. You can find current prices on the eToro platform.
As you can see in the picture, the platform at eToro looks different from Plus500. In addition to the current prices for buying and selling, you can also see in the right column what percentage of users are currently selling or buying. This can be very helpful especially for beginners in trading.
Screenshot. Sample prices. You can find current prices on the eToro platform.
If you click on "Copy People" in the left column, you will get an overview of the most successful and trending users. If you click on a user, you can see his risk score and his successes.
In the "Editors Choice" table, selected people are presented in more detail. Particularly interesting: You can get in touch with the successful investors and ask them about future developments.
With just one click on "Copy" you can copy a person's portfolio.
Customer reviews: eToro is somewhat more popular and is also well rated in various online tests. Especially the social trading aspect makes eToro a recommendable platform for newcomers. As with Plus500, eToro's support is also criticized, although there is at least a telephone hotline for urgent questions. Many questions can also be discussed with other users directly on the platform.
What we also noticed very positively at eToro is the large number of learning materials and courses. Besides social trading, beginners can also learn how to trade through webinars, e-courses and blog posts.
Conclusion: In our opinion, eToro is one of the best platforms for beginners. Especially newcomers often have a hard time in the world of stocks and more than half of them lose the invested money extremely fast. It is precisely these trading mishaps that eToro wants to counter with the social trading principle. In addition, there is also a demo function here.
eToro is a multi-asset platform that offers investments in stocks and crypto assets as well as trading CFDs.
Please note that CFDs are complex instruments and carry a high risk of losing money quickly due to leverage. 68 % of retail investor accounts lose money trading CFDs with this provider. You should consider whether you understand how CFDs work and whether you can afford to take the high risk of losing your money.
Past performance is not indicative of future results. The trading history shown is less than 5 complete years and may not be sufficient basis for an investment decision.
Copy Trading is a portfolio management service of eToro (Europe) Ltd. authorized and regulated by the Cyprus Securities and Exchange Commission.
Cryptoasset investments are not regulated in some EU countries and the UK. No consumer protection. Your capital is at risk.
eToro USA LLC does not offer CFDs and assumes no responsibility for the accuracy or completeness of the content of this publication, which was prepared by our partner using publicly available, non-company specific information about eToro.
3. flatex

Flatex GmbH is based in Germany and has already won many comparisons from renowned trading magazines (e.g. Handelsblatt: "Best Online Broker" or Euro am Sonntag: "Brokerage Test Winner").
While Plus500, eToro and IQ Option compensate for the transaction costs via the spread, Flatex charges more than 0.05% for each order. The minimum fee is 5? per order, which is quite high.
SeriousnessFlatex was founded in 2006 and is one of the largest German online brokers. The platform has already won many comparisons and is subject to the laws in force in Germany and the EU.
Conclusion: Professional broker for advanced traders, where high order costs may be incurred. Therefore, we do not recommend Flatex for beginners who are just entering the CFD market.
Top 2 Alternatives: CFD Broker
1. IQ Option
While Plus500 and eToro have been on the market for a while, IQ Option has only been online since 2013. The young online broker from Cyprus is especially interesting because the minimum deposit is just 10?
Meanwhile, there are more than 80 stocks that can be traded. Although this is rather little compared to Plus500 or eToro, the range extends from commodities to forex and indices to stocks. Since the crypto boom, Bitcoin, Ethereum, Bitcoin Cash, Ripple, IOTA and 7 other cryptocurrencies are also available for trading.
SeriousnessIQ Option is still a very young online platform, but it has already won many customers. The broker is also regulated by EU laws due to its headquarters in Cyprus and is subject to supervision by the Cyprus Financial Supervisory Authority. A registered office of the company is in London. Traders can assume a serious offer here.
The website looks very modern (compared to some dusty offerings of other platforms) and the WebTrader resembles professional trading programs.
Customer reviewsThe broker is praised online primarily because only a minimum investment of 10? is required. However, the monthly fee of 25?, which is due if you are not active for more than 90 days, is negatively received.
Conclusion: A recommendable online CFD broker for beginners and advanced traders. However, special CFD learning material is still missing.
2. CMC Markets
CMC Markets has been trading CFDs since 1989. According to Wikipedia, more than 31 million transactions were executed via CMC Markets in fiscal year 2013 alone.
As with Flatex, CMC Markets also (unfortunately) incurs transaction costs. For each order on shares CFDs are 0.05%, the minimum fee is also 5?
Seriousness: As mentioned above, CMC Markets has been in the CFD business for a very long time. Therefore, we assume that it is a reputable CFD platform. Moreover, the company is subject to the UK financial supervision.
Conclusion: If you are familiar with charts and like professional trading software, you will love CMC Markets. Unlike the other platforms presented, this is already a more professional way to trade CFDs. Nevertheless, customers criticize the sometimes somewhat slow execution of individual orders.
---
What is CFD trading?
If one trades with CFDs, one does not actually buy a share. Simply put, you are "betting" on a rising or falling price. That's right: With CFDs it is also possible to profit from falling prices when taking a short position.
The leverage effect of CFDs makes it possible to make large profits (or losses) in a relatively short time.
Our current comparison. Regularly updated.
To CFD Broker Comparison Table
With many CFD traders there was a margin call, where the client had to add money if the price moved too much in the direction he did not want - for example, if he shorted a stock (bet on a falling price) and the stock rose sharply.
However, the obligation of private individuals to make additional contributions was banned by the German BaFin in August 2017, which has made trading somewhat safer. Nevertheless, there are still high risks with CFDs, as it is not always clear, especially with small platforms, whether the customer is liable and whether there is compensation in case the platform goes bankrupt.
For all newcomers we recommend this video from "Finanzfluss". Here CFD is explained in detail:
Source: https://www.finanzfluss.de/was-sind-cfd/
Remember at all times that CFDs are a leveraged product and the loss of the entire capital is possible. Do not trade CFDs until you are aware of all the risks. Capital is subject to risk.
We are sorry that this post was not useful for you!
Let us improve this post!
Tell us how we can improve this post?