Open a share deposit account: The guide for Austria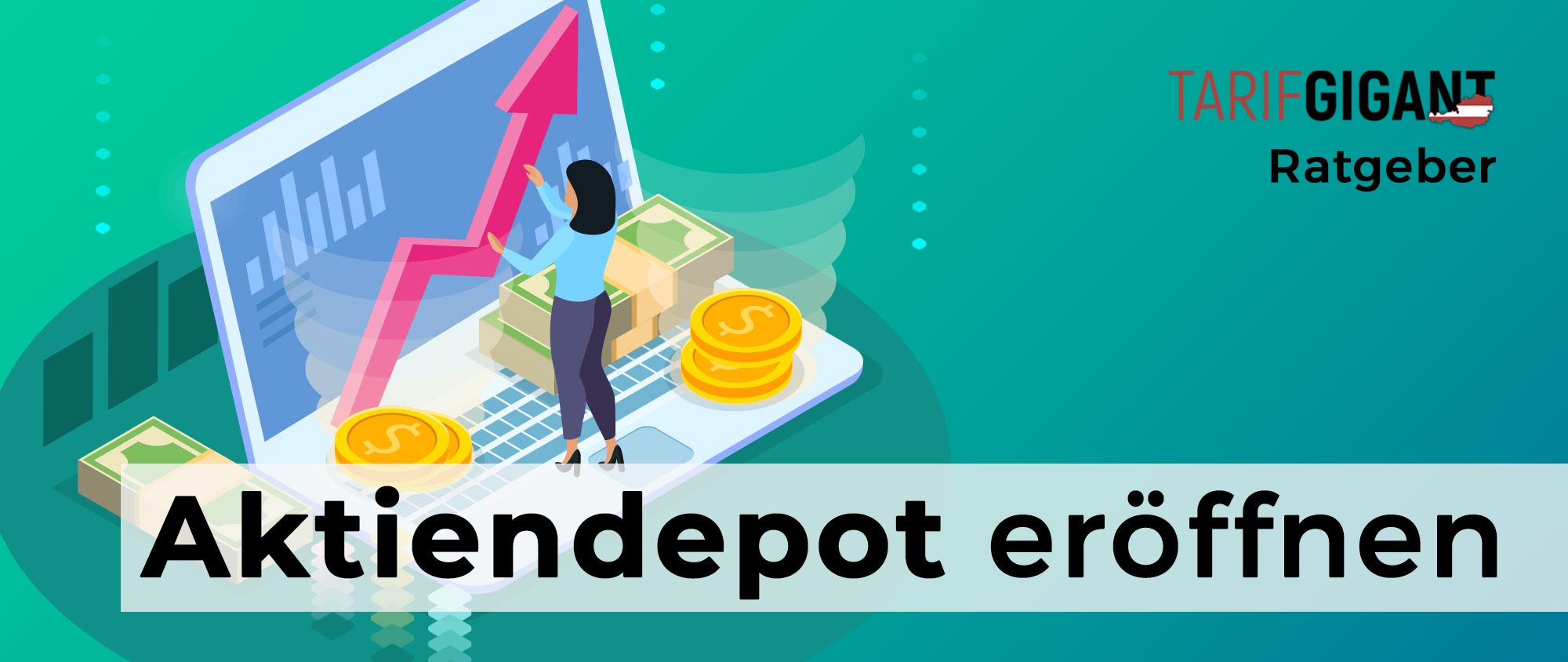 Opening a share deposit account is easier than ever in the age of the Internet. A few clicks are all it takes to start your own securities account for shares, ETFs and co. Even within Austria, there are now a growing number of online brokers that enable every online user to start their own securities account.
Anyone who wants to trade on the stock exchange needs a securities account. In this depot (also called account) all securities, which one acquired, are kept. In most cases, the opening of such an account is simple and straightforward.
In this guide, we explain what a share deposit account is in detail, how a share deposit account is opened and what types of online brokers there are.
---
What is a Share deposit?

A securities account is (in simple terms) the storage facility for securities.
Shares, ETFs, bonds and other securities are deposited in the securities account.
All trading movements are then carried out via the securities account - purchases and sales.
Custody accounts can be opened online or at your bank. We at Tarifgigant.at generally recommend opening an online custody account, as traditional bank custody accounts often incur significantly higher costs (e.g. for account management).
In addition, online custody accounts usually offer more modern web interfaces than banks, where in some cases there is even no online interface at all.
Which stock portfolio you choose depends on your own preferences.
However, when choosing one, one should look at the account fees, the web interface and any additional offers.
We recommend the use of our Share deposit comparison calculator. This is automatically updated and provides the best overview of Austrian depots.
To the share deposit comparison calculator
How to open a Share deposit?

Opening a share deposit account is not that difficult in times of the Internet.
All you need for the opening is an identification document and some patience. But let's go through each action step by step:
Comparison of the Share deposits: First of all, the different depots should be compared with each other to find the best offer. For this we recommend our Share deposit comparison calculator. Brokers based in Austria or Germany are particularly recommended, as they usually have German-speaking customer support available quickly. As an alternative to the classic share deposit is also the CFD trading.
Registration with the broker: Once you have decided on a provider, it's time to get down to business. First and foremost, personal data such as address, date of birth or current place of residence must be entered during registration. In addition, a current ID photo must be uploaded during the registration process.
Perform risk assessment: It is a legal requirement that new traders at brokers must fill out a so-called "risk profile". This is nothing more than a kind of questionnaire in which various questions about one's own experience on the stock exchange have to be answered. For example, it is about how much knowledge one already has about trading, whether one has already traded securities in the past or the like. Even seemingly banal questions about one's own character (keyword risk affinity) have to be answered.
Identification: Since trading is a financially sensitive matter, it is necessary to identify oneself to the broker. There are various procedures for this. In Austria, most brokers offer the so-called "Post-Ident" procedure. You get a letter, which you have to pick up at the post office. In the post office, you must then show your ID / passport and sign some papers. You will then receive your access data.
First log-in: Once you have done all these things, you can register with the broker and start trading. To transfer money to the trading account, it is usually enough to make a transfer from your checking account. It is faster to do it by instant bank transfer.
Where should I have a share deposit open?

We recommend opening a securities account on the Internet. In contrast to a bank custody account, with an online custody account everything is done via a web interface.
This means you can always keep an eye on your securities - even via smartphone with the right app.
Which broker you choose in detail depends on your own preferences.
For example, some people want to day trade (buy and sell shares on the same day), while others think about a much longer period of time. There are important differences between providers here.
Social trading brokers are also becoming increasingly popular. These are providers that, in addition to classic stock trading, allow you to get in touch with other traders and copy or mirror their trades.
To the share deposit comparison calculator
Classic Online stock broker

The "classic" online brokers are providers that enable normal stock trading (buying and selling securities).
The providers in our comparison are reputable and based in Austria.
Go to Comparison of classic share deposits.
We recommend Flatex. Flatex was named "Best Online Broker" by Handelsblatt 2018 and "Top Online Broker" by Trend magazine (also 2018).
Definition: We refer to providers who offer a renowned service for (primarily) longer-term stock trading as "classic" stock brokers. The purchase and sale of real securities is carried out via this type of broker.
CFD-Broker

CFDs are extremely speculative derivatives. In contrast to share trading, CFD trading does not make you the owner of a real share, but the owner of a claim. However, the price of CFDs is derived from the underlying value of the share trade.
Sounds complicated - but basically you bet on rising or falling share prices. Trading with CFDs is suitable for extremely short-term day trading.
Since all stakes are leveraged, a lot of money can be moved with a small entry capital. This means: Great opportunities & even greater risks.
For comparison of the best CFD provider.
We recommend Plus500. Plus500 has been on the market since 2008 and is one of the most popular CFD brokers in the world. The company has offices in many countries around the world and is a sponsor of Atletico Madrid, among others. We have reviewed the provider among several others in the CFD Broker Comparison tested.
Risk warning: 72% of CFD retail investor accounts lose money.
Definition: CFD brokers allow quick entry into derivatives trading in stocks, indices and other trading assets. Registration with the brokers is usually faster than with classic stock brokers. CFD brokers are ideal for day traders, but one should never underestimate the great risk involved in short-term CFD trading.
Social Trading-Broker

Social trading is a phenomenon that first emerged with the Internet. It is based on CFD trading, but is linked to a social component.
Anyone who is registered with a social trading broker has the opportunity to talk to other traders about stocks, indices & Co. But that's not all: With most providers, entire portfolios and trades of other users can be viewed and copied.
For example, if you trust the skills of a user, you can copy their portfolio - and you don't have to do much yourself. On the platforms it is possible to copy the trades of professionals even as a novice.
Social trading brokers are few and far between. Moreover, not all providers are reputable and trustworthy.
We recommend eToro. The provider is the largest and best-known social trading broker. According to its own information, more than 9 million users use the platform to trade securities and other assets. Thanks to the mobile app, you always have your own securities account in your pocket.
CopyTrader is a product that can contain CFDs.
68 % of retail investor accounts lose money trading CFDs with this provider. You should consider whether you can afford to take the high risk of losing your money.
Definition: Social trading brokers bring together broker platforms and social networks. In addition to trading, traders can meet here, learn from each other and also look off. By far the best-known provider is eToro.
---
FAQ: Open a share deposit account
What is the cheapest way to travel?
Of course, the depots also differ in terms of fees.
If you want to spend particularly little money, you should choose a broker with low fees. Some securities accounts are even available without an account management fee.
However, all providers charge a fixed amount per order.
Although there are already quite inexpensive providers with costs of about 4? per order - you should consider before signing up, however, whether you want to sign up with a discount broker and perhaps can do without one or another function.
Are there any fees with CFD brokers?
While CFD providers do not have account maintenance fees (usually), they do have a minimum deposit amount. This is somewhere in the three-digit range.
There are also no costs for orders with most brokers.
These companies finance themselves through the so-called "spread": If you place an order, you are always in the red at the beginning. It takes a while until you get into the plus (if the price develops in the desired direction).
Is my money protected?
Fortunately, there is deposit insurance in Austria.
All amounts up to 100,000? are protected.
This means that in the event of the broker's insolvency, you will get your money back.
What is the best way to start trading?
Every stock newcomer should consider some points in order not to lose the joy of stock trading too quickly.
First of all, you should be clear about your own investment strategy: Do I want to invest for the longer term or should it be day trading? Where are my priorities?
While day trading certainly has its advantages and offers great opportunities for the risk-averse segment of the population, long-term and risk-averse investors should definitely turn to traditional stock trading.
Also important: The knowledge about the purchased securities!
Large and well-known investors such as Warren Buffet swear by taking a close look at the company behind them before buying a share. The more you know about a company, the easier it is to estimate how it will develop in the future.
Last but not least: Always invest only money that you can also lose. You should never put money into shares that is reserved for other purposes. Especially with CFD trading, even a total loss is possible.
To the share deposit comparison calculator
We are sorry that this post was not useful for you!
Let us improve this post!
Tell us how we can improve this post?